The United States and its allies hoped to showcase their "commitment to peace" at the Group of Seven summit this weekend in Hiroshima, the Japanese city rebuilt from the irradiated ashes of an American atom bomb.
But host Japan is increasingly stepping beyond the boundaries set by its history and playing a more assertive role on the world stage.
It's not the only one, as some experts say North Korea's escalating nuclear threats and worries over China's sweeping territorial claims that have been sharpened by Russia's war in Ukraine are pushing Washington's friends in the region to embrace a more aggressive approach to security — and embrace each other.
Historically bitter enemies, Japan and South Korea are each host to tens of thousands of American troops and both are now seeking to build up their militaries and their cooperation.
The Chinese government has condemned what it views as smaller countries in its backyard toadying up to their benefactor in Washington. By contrast, this development is music to the ears of the White House, which has long called for countries to join its geopolitical struggle against what it sees as Beijing's nefarious rise.
"The United States has pressured its Asian allies to turn the page on history and cooperate on containing China while dealing with the threat from Pyongyang," Jeff Kingston, a professor of history and Asian studies at Temple University, Japan Campus, told NBC News.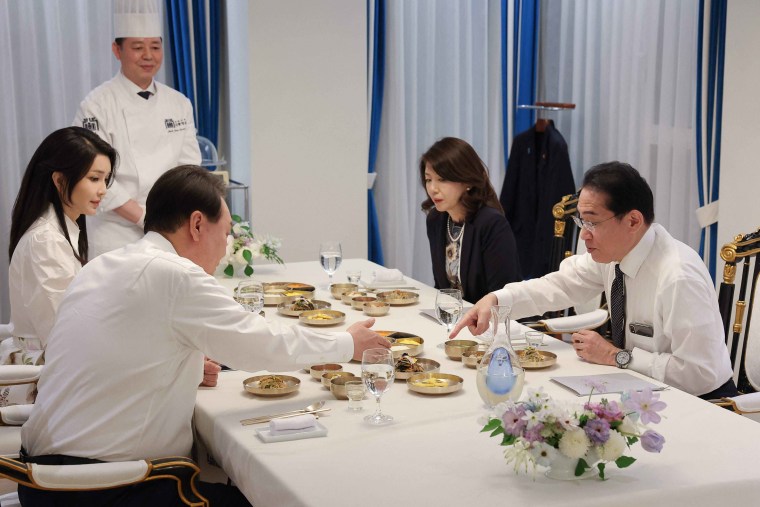 This all came ahead of the annual summit of G7 leaders, which runs Friday to Sunday. This is an informal club of rich democracies — the U.S., Canada, the United Kingdom, Germany, France, Italy and Japan — which meet each year to discuss global politics.
This time it's being hosted in Hiroshima, "a city which has recovered from the catastrophic damage by an atomic bomb and which continues to seek lasting world peace," according to the summit's website. This makes it "the most fitting location to express" the G7's "commitment to peace."
Top of the agenda is Russia's invasion of Ukraine, whose President Volodymyr Zelenskyy made an in-person appearance at the summit to rally support.
On Friday, the group's leaders made the direct connection between the city's history and Russia's nuclear threats, which have helped drive Japan's push to make arms control a major part of the gathering.
"We reiterate our position that threats by Russia of nuclear weapon use, let alone any use of nuclear weapons by Russia, in the context of its aggression against Ukraine are inadmissible," they said in a joint statement.
But close behind that grinding conflict is how to approach China, with allies still somewhat divided on how to balance cooperation economically with confrontation on China's alleged human rights abuses, authoritarianism and territorial expansionism.
The Kremlin's war has sharpened minds in Asia about what would happen if China invaded Taiwan, a self-governed island that Beijing sees as rightfully its territory. "Ukraine today may be East Asia tomorrow," Japanese Prime Minister Fumio Kishida told another summit in Singapore last June.
Some experts believe that, although North Korea's nuclear arsenal is seen as the most pressing threat in Seoul, growing concern about China has emerged as another factor behind a rapprochement between Japan and South Korea that comes as both countries embrace a more hawkish approach to defense.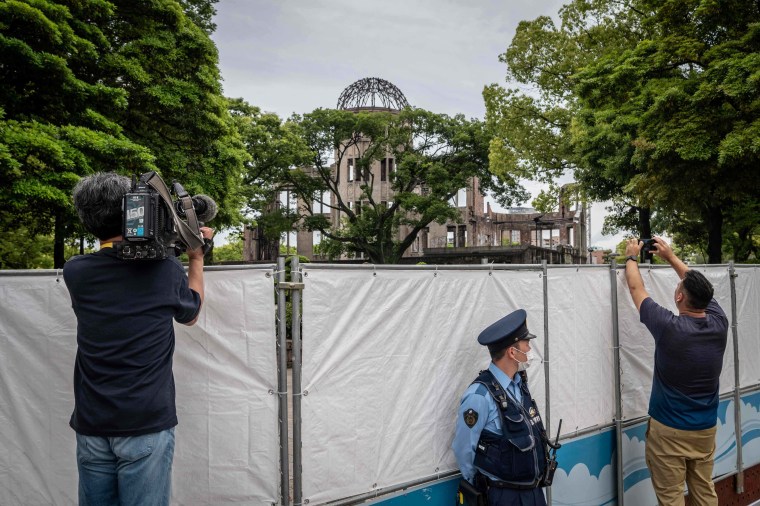 The former (a G7 member) has invited the latter as its guest to this weekend's summit. The event follows two historic summits between Kishida and South Korean President Yoon Suk Yeol, with both leaders visiting each other's capitals for talks over sake and beer.
This was a big deal. These were their first formal meetings for more than a decade, beginning the process of resolving bitterness from Japan's colonial occupation of South Korea from 1910-45.
President Joe Biden called it a "groundbreaking new chapter" at the White House in March. Without mentioning China by name, he couched the strengthening partnership as one of "free and open" democracies against authoritarianism — a central theme of his administration.
At at a trilateral meeting the G7 summit, Biden invited Yoon and Kishida for another meeting Washington, a senior U.S. official said. In a statement issued after the talks, the White House said the leaders had "discussed how to take their trilateral cooperation to new heights," including with new coordination in the face of North Korea's "illicit nuclear and missile threats."
Japan announced late last year that its military spending will double to 2% of its gross domestic product — a historic departure from its supposedly "pacifist" constitution. It ruffled feathers in Beijing with its decision to deploy Patriot missile batteries on islands close to Taiwan. And it is even considering opening a NATO liaison office, Koji Tomita, Japan's ambassador to the U.S., said last week, a small but symbolically significant gesture of Western solidarity.
In South Korea, the feeling that North Korea's arsenal is becoming ever more of a threat means that more than 70% now favor developing nuclear weapons of their own, a poll last year by the Chicago Council on Global Affairs found.
That prompted Washington to announce a new defense pact with the government in Seoul, which included the U.S. sending nuclear-capable submarines to the country — so long as it reaffirmed its promise not to try to get its hands on nuclear weapons of its own.
South Korea is heavily reliant on China for trade, so it has historically been careful with how it treats its giant neighbor. But relations between the two have dipped as of late, particularly after South Korea's president, Yoon, suggested China was attempting "to change the status quo by force" in Taiwan. This sparked a tit-for-tat summoning of ambassadors, with China's Foreign Ministry calling the comments "erroneous" and "totally unacceptable."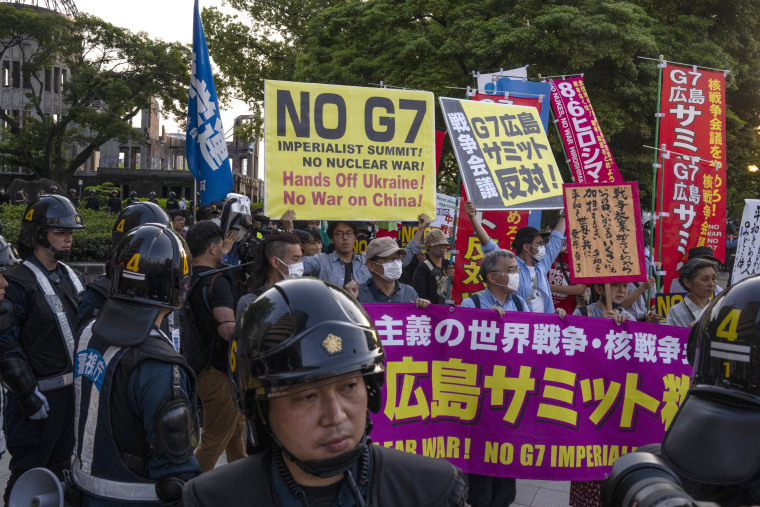 Simon Chelton, a former British defense attache in Tokyo, said it would be wrong to chalk up the developments solely to concerns over China, North Korean missile tests or prompting by the U.S. — but rather a more complex mix of all three that has been brewing for years if not decades.
"The reason that Japan is now increasing spending is not a knee-jerk reaction to what Biden is saying, it's not a sudden whim," said Chelton, who is now an associate fellow at the Royal United Services Institute, a think tank in London. "It is a gradual buildup that goes back many years. Everything in Japan is always gradual."
China sees these moves merely as an excuse for Japan and South Korea to toe America's line on containing Beijing. Foreign Ministry spokesman Wang Wenbin told a briefing last week that the trio were using North Korea "as a pretext to strengthen military cooperation." He blamed the U.S. allies for increasing the risk of "bloc confrontation in the region" and undermining "the already fragile mutual trust" between them and Beijing.
The state-run news agency Xinhua wrote the same day that "the US has been trying to put together an anti-China coterie for a long time," describing the alliance as "a plot."
Many experts agree that the strengthening trio is in part motivated by China — and with good reason.
"China's military modernization over the past two decades, involving annual double-digit increases in military spending, combined with greater assertiveness about China's disputed territorial claims, generates unease about Beijing's hegemonic ambitions," Kingston, at Temple University, said.
Source: NBC News