Italy's position should be clearer when Prime Minister Giorgia Meloni and her fellow Group of Seven leaders meet in Japan later this month.
Four years after Rome signed up for Beijing's massive infrastructure project, the Belt and Road Initiative, Meloni will reportedly say where her country stands on the partnership.
When Italy signed on in 2019, it was the first G7 country to join the initiative and did so even as the China-US rivalry began hitting its stride and wariness was emerging in the European Union over the bloc's economic ties with Beijing.
For China, Italy's decision was a diplomatic win in its efforts to use the initiative to expand its global influence, particularly to counter the United States. For Italy, it was seen as a chance to revitalise its economy.
But now – as Beijing prepares to host belt and road partners later this year – there are signs Rome could be ready to withdraw.
If Italy does pull out and fall in line with the European Union's derisking approach towards China it will be a major diplomatic setback for Beijing but the economic fallout may be limited, observers say.
The idea of Italy's possible withdrawal from the initiative has been floating around since Meloni's coalition won the national election in September.
Before the election, she said it had been a "big mistake" for Italy to sign on to the initiative in 2019. She had long been a critic of the initiative, saying in 2021 that Italy's foreign policy needed to be "Europeanist and Atlanticist".
The MOU was signed during the administration of then-prime minister Giuseppe Conte and covered a broad range of areas, from infrastructure to space and energy.
Wang Yiwei, a Renmin University professor who specialises in Europe studies, said China valued Italy's participation greatly at the time. "Now it wants to quit … it's really a slap in the face [for China]."
Italy remains the only Group of Seven member country to sign the MOU but so far has had very little to show for it.
Belt and road-related investments in Italy dropped from US$2.51 billion in 2019 to US$810 million in 2020, according to data provided by Fudan University's Green Finance and Development Centre.
More broadly, Chinese completed foreign direct investment in Italy dropped from US$650 million in 2019 to US$20 million in 2020 and US$33 million in 2021, according to data from the Rhodium Group.
That compares with US$1.9 billion in Chinese FDI in Germany and US$1.8 billion in France in 2020.
According to the Rhodium Group, Finland, Germany, Britain, France and the Netherlands were among the European countries that received most Chinese investment between 2019 to 2021, despite not signing up for the initiative.
Enrico Fardella, director of ChinaMed and professor at the University of Naples L'Orientale in Italy, said Italy saw no economic return after signing the MOU with China.
"Italy gained no economic return whatsoever while other EU countries who refused to sign the MOU gained more economic benefits."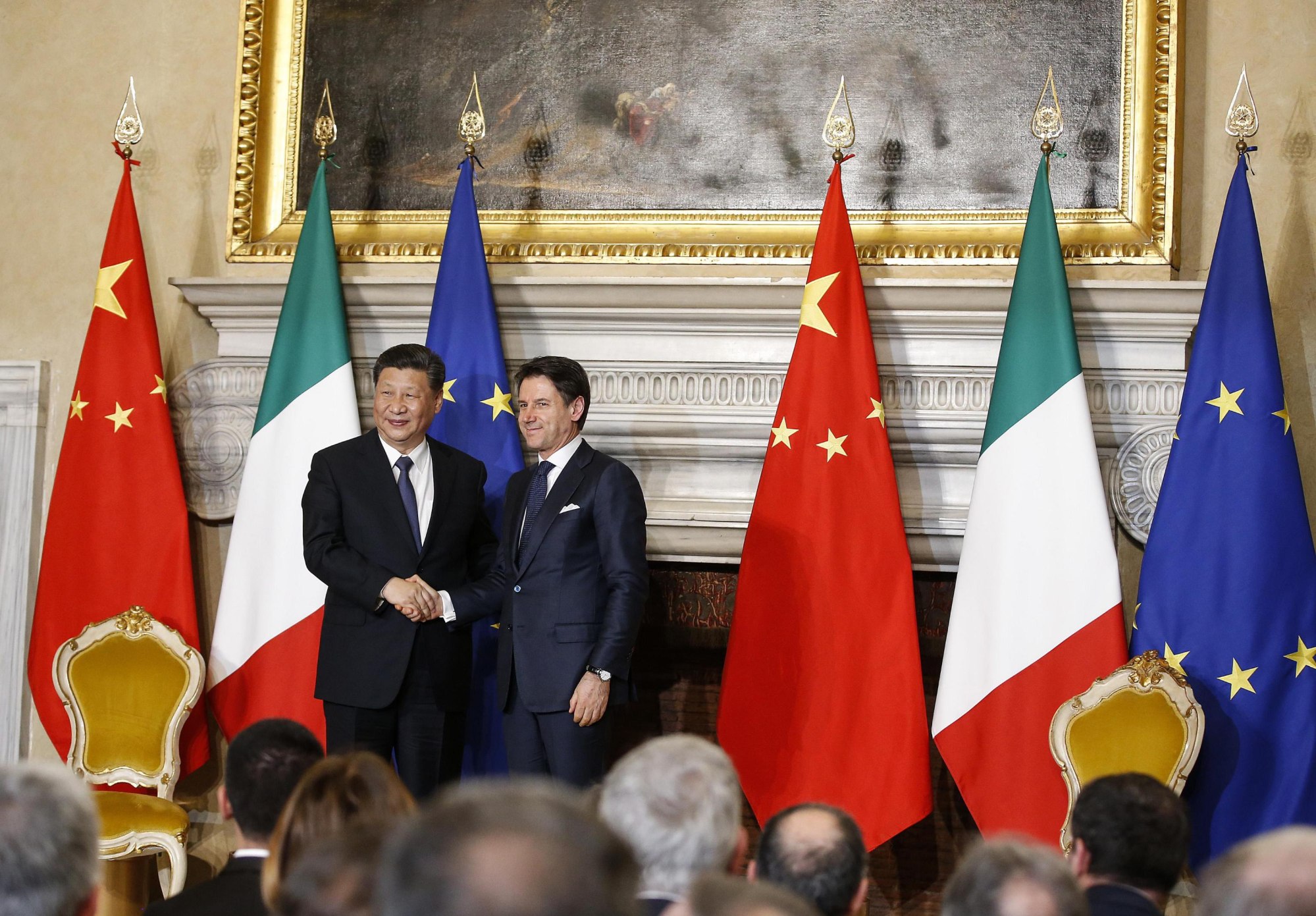 Italy's then-prime minister Giuseppe Conte (right) hosts Chinese President Xi Jinping in Rome in March 2019 as Italy becomes the first G7 country to sign on to the belt and road plan. Photo: EPA-EFE
However, Chinese investment has been waning in Europe in general over the past few years, falling to €7.9 billion (US$8.4 billion) in 2020, the lowest since 2013, according to the Rhodium Group.
This is in part because of screening measures on the continent.
Growing concerns over Chinese investments in strategic assets in Europe prompted the EU to tighten its foreign investment screening rules in 2020. Italy followed suit that year, aligning its powers to intervene to protect strategic companies.
Conte's successor, Mario Draghi, who entered office in February, 2021, used these powers a number of times to block Chinese takeovers of Italian businesses in sensitive strategic sectors, including two semiconductor-related deals.
Concerns about Chinese investment also came to the fore at Trieste, Italy's busiest port.
Under the belt and road MOU, state-owned China Communications Construction Company – a company blacklisted by the United States in 2020 for its alleged ties with the Chinese military – would be allowed to help develop infrastructure at the port.
Trieste is a key gateway to a land-corridor linking the Adriatic to the Baltic Sea in the north of Europe and Western countries were concerned that the agreement would allow China to further expand its influence in Europe, as it did by acquiring the Piraeus Port in Greece in 2016.
Wang, from Renmin University, said Italy had been under Western pressure to take a hard line against China amid tensions over Ukraine and Taiwan. There had also been calls within the EU to cut economic dependence on China.
"[Europe] talks every day now to reduce this kind of dependence," he said.
Philippe Le Corre, a senior fellow at the Asia Society Policy Institute's Centre for China Analysis and a EU-China relations specialist, said the tougher China policy under Draghi, declining favourable views of China in the Italian public, and a lack of delivery of belt and road projects since the signing of the MOU were some of the reasons Italy might withdraw from the initiative.
"In Italy, there has been a great disappointment over China since 2019," Le Corre said.
At the same time, China has been shifting its focus from mega infrastructure projects to more high-quality and easily financed green, health, and digital projects, to better manage political and economic risks.
Southeast Asia has emerged as a new region of focus for the initiative, with countries such as Singapore, Malaysia, and Cambodia seeing strong growth in projects over the past year.
A Chinese government adviser said "Europe is still a focus" of the belt and road but it might be necessary for Beijing to change its approach in Europe amid ongoing tensions with the bloc.
There were signs of such a shift in February when top Chinese diplomat Wang Yi met Italian Foreign Minister Antonio Tajani, lauding potential for cooperation between the two countries in green development and the digital economy, among others.
His trip was seen by some as an effort to convince Italy to stay on the belt and road and prepare for Meloni's expected trip to China.
Meloni remains as the only leader from a major European Union country not to have visited China since Beijing's leadership reshuffle in October.
In Italy, there has been a great disappointment over China since 2019Philippe Le Corre, Asia Society Policy Institute's Centre for China Analysis
If Meloni decides not to take action on the MOU, it will automatically renew for another five years when the existing agreement expires next year.
Zha Daojiong, a Peking University professor who specialises in risk control of Chinese investments overseas, said that while Italy's possible termination of the agreement could have short-term diplomatic impacts, it was expected to have a limited economic effect on the two countries.
"In material terms, Italy's termination of its formal participation in the belt and road is quite likely going to have a limited impact, as non-government entities make up the mainstay of trade and investment interactions between the two economies," he said.
But Nicola Casarini, an associate fellow at the Rome-based think tank Istituto Affari Internazionali, said there could be consequences.
He said renewing the MOU with China would ease Italian companies' access to the Chinese market and other belt and road financing in areas such as Africa and the Middle East.
A withdrawal, however, may expose Italian companies to commercial reprisals from China and divert trade from Italy to other EU countries such as France and Germany.
"The decision is not an easy one. Putting an end to the MOU would certainly consolidate Italy's Western positioning – but this will come at a cost for Sino-Italian relations," he said.
Nevertheless, Rome signalled its intention to terminate the belt and road agreement with Beijing when its industry officials visited Taiwan last month.
Meloni's government, which has voiced support for the EU and Nato's approach in against changes of the status quo of Taiwan, appears to be developing closer ties with the island, which is set to open a representative office in Milan.
While a withdrawal from the belt and road will facilitate cooperation and investments between Taiwan and Italy, Casarini said "these gains are very unlikely to offset the losses that will occur in Sino-Italian bilateral trade".
Source: SCMP