South Korean and Japanese leaders agreed to resume regular visits and resolve their past disputes.
South Korean President Yoon Suk Yeol has been invited to Tokyo for a meeting, happening for the first time since 2011. The development came in the background of President Yoon Suk Yeol dropping the compensation demand for the comfort women issue from Japan. He stated that South Korea would raise money for the same instead. The President has also clarified that the two countries must put their pasts behind them for the sake of Northeast Asian security.
The opposition called this move the "biggest humiliation" in the history of South Korea. However, the President has been appreciated for this move by foreign ministers, as without any experience in foreign policy, he enabled friendly talks with Japan.
Strained Relations between South Korea and Japan
Strained relations between the two countries come from the history of Japanese imperialism on South Korea from 1910 until the end of World War II. During this period, many Korean women were pushed into sexual slavery – known as comfort women. 
Ever since there have been several attempts to address the issue. However, not only did it remain unsolved, and strained the relationship between the two.
Plagued History and tensed International Relations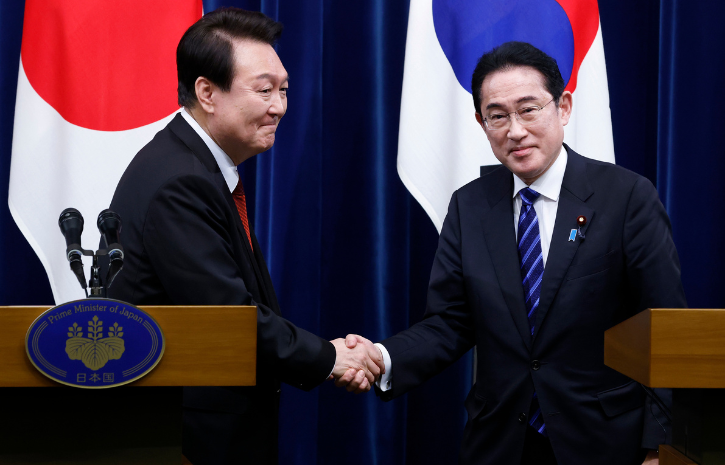 AP
Attempts in the past have been made. However, no long-term closure was received. In 1965 – Normalisation Treaty and Claims Agreement were signed. In 2015, the Comfort Women Agreement was signed too. However, the issues were not addressed properly. The Japanese held the 1998 declaration as the final expression of remorse. However, victim Kim Seong Joo stated, "we can forgive, if Japan tells us one word, we are sorry and we did wrong. But there is no such word."
In October 2018, the South Korean Supreme Court ordered Japanese companies Mitsibushi Heavy Industries and Nippon Steel to compensate comfort women. Japan expressed that the court had no jurisdiction over this issue, and it had been resolved as per the agreements signed before. As a result, in July 2019, Japan blocked semi-conductor exports to South Korea, including hydrogen fluoride, fluorine polyamides, and photoresist. South Korea, too, reverted by consulting World Trade Organisation (WTO) and filed a complaint regarding the measures imposed by Japan. A formal panel on the same was established on 29 July 2020.
Recent Talks Mended the Relationships
After President Yoon Suk Yeol dropped the compensations, Japan also lifted the restrictions on the exports of semiconductor materials. South Korea, too, withdrew its complaint to WTO.
The US has also appreciated this step as it is allied with both countries. South Korea and Japan can benefit from this step by sharing intelligence on nuclear-armed North Korea and working together on their military power. Both also have US bases installed in their countries; thus, the US will benefit from this cooperation to combat China. Joe Biden called this step "a ground-breaking new chapter," and invited the South Korean President to the White House. 
Omurice Diplomacy
Many have called this an Omurice Diplomacy – a name that comes from a Japanese dished served with an omelet on top of fried rice, which also happens to be the South Korean President's favourite dish.
Japanese Prime Minister Fumio Kishida also plans to take the President to Rengatei restaurant and discuss security challenges against North Korea and China over a dish of omurice. 
Japanese Prime Minister has also invited the South Korean President to the G-7 summit in May in Hiroshima to give the US the message of reliable allyship. Japanese Foreign Minister Yoshimasa Hayashi appreciated this step and called it the "return ties to healthy state."
Source : IndiaTimes