North Korea said Friday it had conducted a rare strategic cruise missile drill as the United States announced it had held a tabletop military exercise with South Korea focusing on the possibility of nuclear weapons use by Pyongyang.
The missile drill, which the North's official Korean Central News Agency said took place early Thursday, saw four Hwasal-2 strategic cruise missiles "precisely hit" a target in the Sea of Japan "after traveling the 2,000-km-long elliptical and eight-shaped flight orbits" for about 170 minutes.
Such a distance would put all of Japan within striking distance.
"The drill clearly demonstrated once again the war posture of the DPRK nuclear combat force bolstering up in every way its deadly nuclear counterattack capability against the hostile forces," KCNA said in a report, using the acronym for North Korea's formal name.
North Korean missile launches are typically detected and announced immediately by Japan, South Korea and the United States, but there was no announcement Thursday.
At a news conference Friday, Chief Cabinet Secretary Hirokazu Matsuno refrained from revealing whether or not Japan had tracked the missiles, but said it "had presently not confirmed any missile flights into our exclusive economic zone or territory, and we have not received any reports of damage."
Matsuno, the government's top spokesman, said that the North Korean claims, if true, were "concerning because they threaten regional peace and security."
Also Friday, Seoul said reconnaissance and surveillance assets from South Korea and the U.S. had been "closely monitoring the relevant area at the time" of the North's claimed drills.
"An analysis is underway on various possibilities, including whether the North's claim is true or not," the Yonhap news agency quoted the South Korean military as saying.
In October last year, North Korea tested what it said were long-range strategic cruise missiles designed to carry tactical nuclear bombs. Experts say cruise missiles, which fly far slower than ballistic weapons, present a unique danger in that they can fly low and maneuver, making them potentially very difficult to intercept by air and missile defenses.
Unlike ballistic weapons, cruise missiles are not banned under United Nations sanctions on North Korea.
Malcolm Davis, a senior analyst at the Australian Strategic Policy Institute, said that based on the North Korean claims, the weapons fired Thursday would put all of South Korea and Japan well within range.
"The cruise missiles would add to North Korea's already substantial nuclear capacity based on intercontinental ballistic missiles (ICBMs) and more recently, tactical nuclear weapons," Davis said. "A 2,000-km range brings them into the sub-strategic level type capability."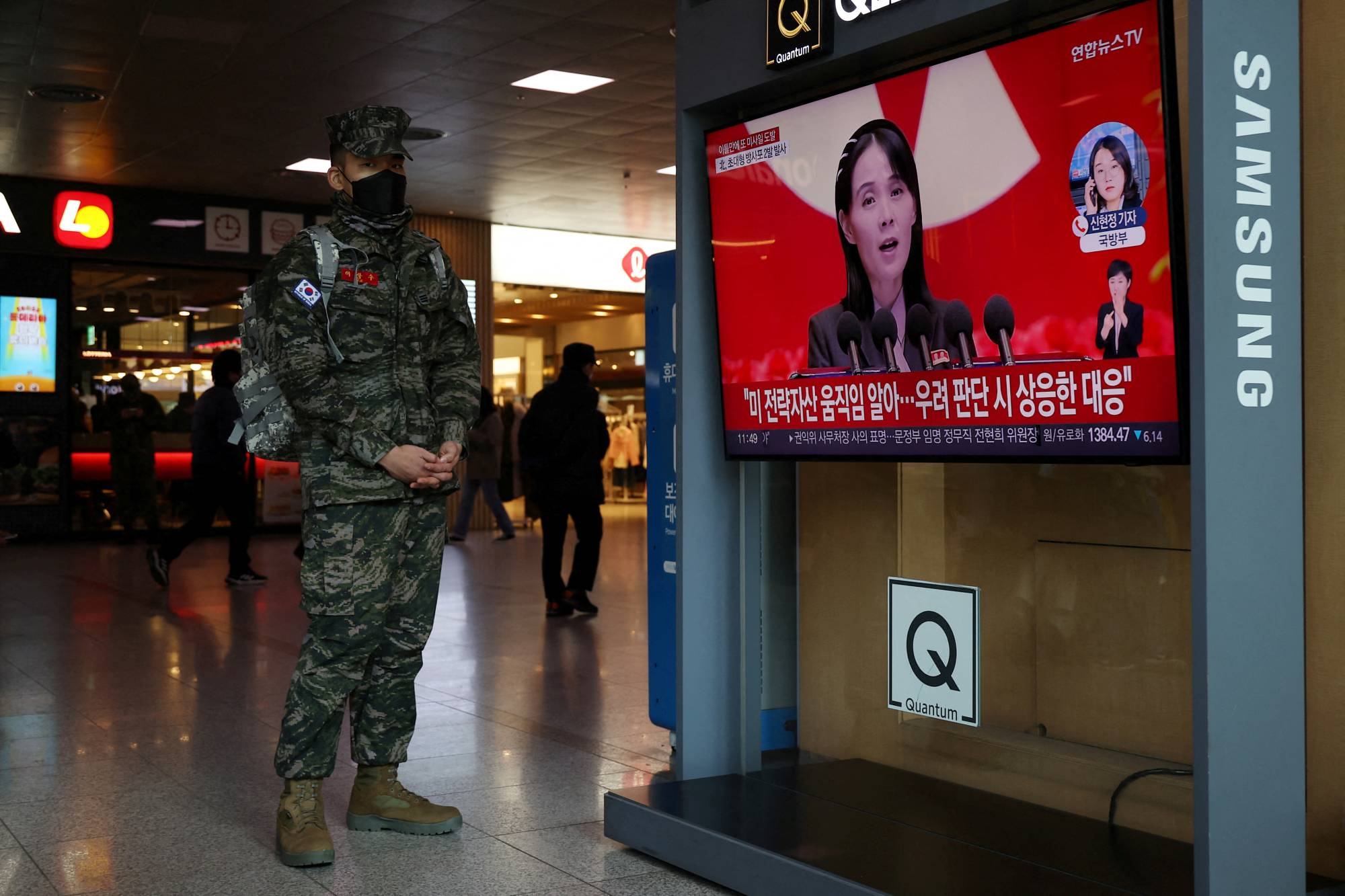 The latest cruise missile launches came as the Pentagon announced Friday that the United States and South Korea had conducted a tabletop military exercise earlier in the week that focused on the potential use of nuclear weapons by North Korea.
"The U.S. and ROK delegations focused their discussion on Alliance deterrence to maintain peace and stability on the Korean Peninsula and potential options for responding to DPRK nuclear weapons use. Both sides discussed various options to demonstrate the Alliance's strong response capabilities and resolve to respond appropriately to any DPRK nuclear use," the Defense Department said in a statement, using the acronym for the South's formal name, the Republic of Korea.
The Pentagon said U.S. officials had highlighted Washington's Nuclear Posture Review, released last year, which states that any nuclear attack by North Korea against the United States or its allies and partners "is unacceptable and will result in the end of that regime."
Officials from the two sides also visited a U.S. base for nuclear-powered ballistic missile submarines for the first time, a move designed to spotlight Washington's commitment to "extended deterrence," or the ability of the U.S. military to deter attacks on U.S. allies.
The Defense Department statement said Washington will continue to work with Seoul "to ensure an effective mix of capabilities, concepts, deployments, exercises, and tailored options to deter and, if necessary, respond to coercion and aggression" by North Korea.
"The United States will continue to field flexible nuclear forces suited to deterring regional nuclear conflict, including the capability to forward deploy strategic bombers, dual-capable fighter aircraft and nuclear weapons to the region," it added.
The joint tabletop nuclear drills were the first under South Korean President Yoon Suk-yeol, whose administration and ruling party has openly flirted with the idea of a homegrown nuclear deterrent or asking the U.S. to deploy its bombs to the country.
The two sides also agreed to conduct more tabletop exercises in the near future. Next month, the two allies are also planning to hold annual computer-simulated combined training, as well as joint field exercises that would be larger than those held in recent years.
Davis said the U.S.-South Korean exercise suggested that the allies are "at the very least planning for the possibility of future North Korean nuclear use in a crisis, and are assessing options on how to respond."
But he also said the exercise, as well as the submarine base visit, could be viewed as an attempt to reinforce U.S. security guarantees and "alleviate any temptation by the ROK government towards consideration of acquiring their own nuclear weapons."
In a separate statement released Friday, the North slammed the U.S. and its allies for calling a U.N. Security Council meeting in response to its latest missile tests, which it said were done in self-defense and were the legitimate right of a sovereign state.
Kwon Jong Gun, the Foreign Ministry's director-general for U.S. affairs, said that the North would consider "strong countermeasures" if the U.N. continues to serve as a "U.S. tool to pressure" Pyongyang, adding that such a move would only "further exacerbate military tension."
"The U.S. should bear in mind that if it persists in its hostile and provocative practices against the DPRK despite the latter's repeated protest and warning, it can be regarded as a declaration of war against the DPRK," the statement added.
Pyongyang views joint drills between the the U.S., South Korea and Japan as a rehearsal for invasion.
Observers say the latest North Korean drills come as the country moves from weapons tests to actual training that highlights apparent deployments of advanced missiles. On Saturday, the North conducted a surprise drill of a long-range missile into waters off Hokkaido that it claimed highlighted "actual proof" of the country's "fatal nuclear counterattack" capabilities.
On Monday, it launched two short-range ballistic missiles, part of training for a "tactical nuclear attack," with the powerful sister of North Korean leader Kim Jong Un warning that the country could turn the Pacific into its "firing range" — a hint that more missile launches, including those overflying Japan, could be in the cards.
Tensions over the North's nuclear and missile programs soared in 2022 as it fired off a record number of weapons in the face of calls by the U.S. and its allies to return to denuclearization talks.
Experts say this year could prove to be even more perilous, with signs already emerging that leader Kim remains determined to follow through on a 2021 pledge to build even more advanced missiles and nuclear warheads.
Source : Japantimes